Gate way to abroad - Tirunelveli
Friday, 9 December 2016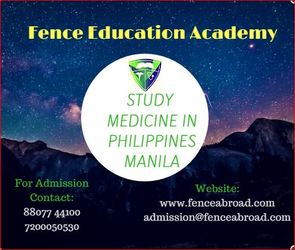 Item details
City:
Tirunelveli, Tamil Nadu
Contacts

Fence Education Academy

7200050530
Item description
Globalization has changed the world and one field which gains lot of focus is education. Increasing number of students are now moving to foreign locations to pursue their higher studies from universities across the world. After post liberalization policies in India, studying abroad is not as difficult as it used to be. There is proliferation of information, both through online and offline sources on overseas education confuse students and parents more than ever. Fence Education Academy helps you by providing latest information updated regularly to provide necessary guidance on the opportunities, scope, prospects and financial rewards in any given field of study for finding the right course that suits your aptitude and career dream.
Fence Education Academy offers overseas educational consulting services for students who are interested to study medicine in the Philippines.
Career Counselling:
Understanding and assessing student's personal requirements and interests by conducting one to one session is our first step to guide them to make the best career choice.
Admission Guidance:
Our experienced and expert counsellors having latest information on admission criteria help you complete application forms and followup with the universities to ensure you admission.
Visa Assistance:
The visa team at Fence Education Academy is always updated with the latest requirement, immigration policies and visa checklists to ensure successful processing of your student visa.